Patients & Caregivers
Care centered around you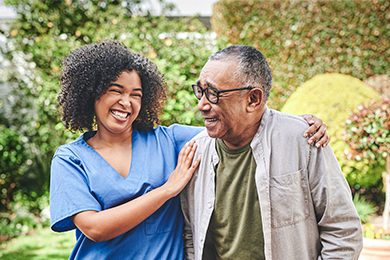 What to Expect From Your AOM Care Team
AOM Infusion has been transforming patients' lives through exceptional infusion therapy for 30 years. Your AOM care team will prioritize your comfort, ensuring you understand the treatment you're receiving while focusing on achieving the best possible outcomes for improved health and an enhanced life.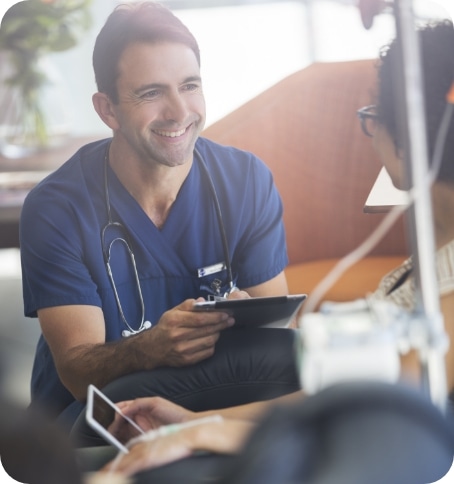 Personalized Care
When you receive infusion care from AOM, you gain a dedicated team of expert clinicians who will create a customized treatment plan specific to your needs. Your care team are your advocates. We'll stand by your side every step of the way to ensure the best possible outcomes, helping you navigate the treatment process as well as any insurance questions.
AOM is committed to enhancing your experience in every way, including easy access to all the information you need regarding your treatment. Visit the patient portal to review clinical training and education, ask questions about your treatment and schedule visits and deliveries – all just a click away.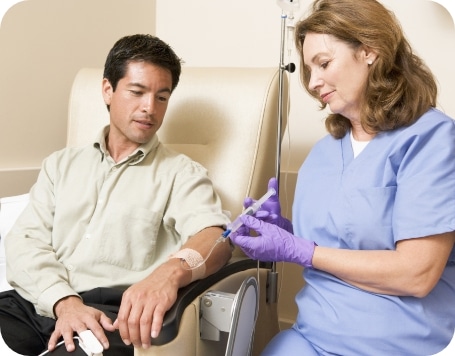 Specialty Infusion Therapies
AOM's highly trained clinical pharmacists and nurses will collaborate with your physician or health care provider to ensure your infusion therapy care is woven seamlessly into your overall treatment plan. Your infusions will be administered on your schedule in the comfort of your home or in one of our state-of-the-art infusion centers. We have your back 24/7, with clinicians and nurses just a call away every hour of the day to answer your questions.
Conditions We Treat
Infusion therapy is a cost effective, innovative treatment option for patients with chronic conditions who may require a more complex level of treatment. AOM Infusion has decades of experience providing therapy for over 80 chronic conditions, improving patient health and supporting optimal outcomes.
Chronic Inflammatory Disorders (CIDs)

Crohn's Disease
Inclusion Body Myositis
Irritable Bowel Syndrome
Juvenile Idiopathic Arthritis
Kawasaki Disease
Polymyositis
Rheumatoid Arthritis
Ulcerative Colitis
Vasculitis
Immunological Conditions

Hypogammaglobulinemia
Common Variable Immunodeficiency
Epstein-Barr Virus Syndrome
Idiopathic Thrombocytopenic Purpura
Primary Immune Deficiencies
Selective Immune Deficiencies
Sjogren's Syndrome
Systemic Lupus Erythematosus
Neurological Disorders

Amyotrophic Lateral Sclerosis
Chronic Inflammatory Demyelinating Polyneuropathy (CIDP)
Duchenne Muscular Dystrophy
Encephalitis and Encephalomyelitis
Guillain-Barre Syndrome
Neuromyelitis Optica
Neuropathies (Hereditary and Idiopathic)
Demyelinating Diseases
Dermatomyositis
Inflammatory Polyneuropathy
Lambert-Eaton Myasthenic Syndrome
Multifocal Motor Neuropathy (MMN)
Multiple Sclerosis
Myasthenia Gravis (MG)
Stiffman Syndrome
Transplant

HLA Desensitization
Organ Rejection
Specialized Therapies
Have any questions about insurance coverage for your infusion therapy? AOM Infusion has insurance specialists available to verify coverage for specialty infusion therapy and obtain the necessary authorizations for our services. We are a participating provider with most major insurance carriers and have active contracts with a variety of commercial payors.
Q&A
What is infusion therapy?

Infusion therapy is the administration of medications by IV using intravenous and subcutaneous routes (into the bloodstream and under the skin). The most common drug therapies we administer by IV infusion are immunoglobulins (IVIG and SQ), chronic inflammatory & biologic infusions (Infliximab, Entyvio, Stelara) and specialized therapies (Nulogix, Actemra, Orencia).
Is infusion therapy covered by insurance?

Most health plans provide coverage for infusion therapy. We will ask you for your current health care coverage and work with your physician to order your infusion therapy services within your coverage limits. AOM's insurance specialists are available to answer any questions regarding your infusion care or insurance coverage.
How do I know if I'm a candidate for infusion therapy?

Infusion therapy is a great fit for patients with chronic neurologic, immunologic and inflammatory conditions who may require a more complex level of treatment, especially if oral medications have been difficult to take. Infusion therapy can also be provided in the comfort of the home and within the patient's schedule, enabling you to live a full, enriched life while receiving treatment.
Can I work and travel while on infusion therapy?

Absolutely. AOM's team works around your scheduling needs. Pharmacists and nurses are available 24/7 for emergencies, new referrals or changes in therapy.
Is infusion therapy safe?

AOM Infusion has been safely treating patients with infusion therapy for 30 years. All patients are carefully screened to determine if infusion therapy is safe and appropriate for their individual needs. A registered nurse monitors all home treatments continuously.
Bill Pay
Call 1-800-556-4246 to pay your bill.
---
Get Started with AOM Infusion
Connect with a representative to learn more.
"Every single person I have had the pleasure to speak with at AOM is courteous, professional and human. Lynn in the pharmacy is an absolute perfect start to my Monday morning and works with me and guides me throughout each delivery. My nursing team is more on top of things than I am. It's an awesome feeling to know that there's a company that deals with patients all over the country that cares. As long as I'm needing the therapies that you provide, I'd be grateful to stay with AOM." Patient Ewing, NJ